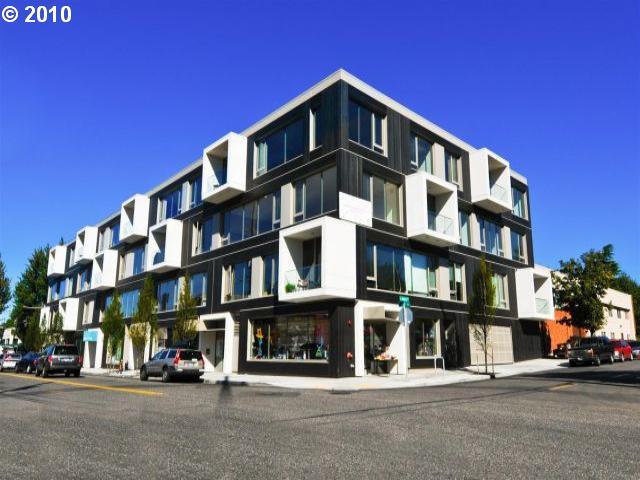 Although we didn't know it at the time, back in September Urbnlivn noted the sale of one of the last 2-bedroom condos available at the Sunrose. In mid-October the final 2-bedroom went under contract leaving just four 1-bedroom units to sell before this development reaches sold out.
The Sunrose condos were designed by Holst Architecture and constructed in 2009. The first condo sold in April of 2010, and a look at the sales history on Redfin shows that condos in the Sunrose have sold for a price per square foot ranging from $244 to $332.
With an address of 28 SE 28th, the 32-unit building is located on the corner of 28th and Burnside near notable restaurants and the boutique retail found in Laurelhurst. The two 2nd floor units have views of 28th, while the remaining two 4th floor units face the opposite.
All four remaining units include a flex room, storage, and parking and nearly all have decks (excepting #210). Sadly, none of the remaining condos are corner units which means no windows in the bedroom or flex room (but there's still plenty of floor-to-ceiling window action in the living areas).
I can't decide what I like more, the modern interiors found in the units or the exterior design of the building. Take a look and tell me what you think: